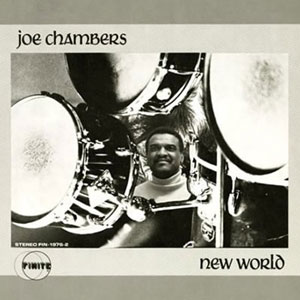 Joe Chambers
Finite (1976) original
Porter Records (2008) reissue
A great platter of mid-70's cosmic jazz-rock with spacey rhodes, smokin' guitar, and smashing drums (of course!).

Full Song Samples
Porter Records said:
An excellent recording done in 1976 by legendary drummer Joe Chambers, who has played on many landmark Blue Note Recordings with the likes of Bobby Hutcherson, Freddie Hubbard, Andrew Hill, Joe Henderson and many more. "NEW WORLD" contains some heavy grooves as well as lighter and melodic compositions. Of course lots of amazing drumming and wonderful fender rhodes work by Eddie Martinez.
Available at:
Porter Records
Amazon
CD Universe